Every $20 donation is another chance to win one of 10 prizes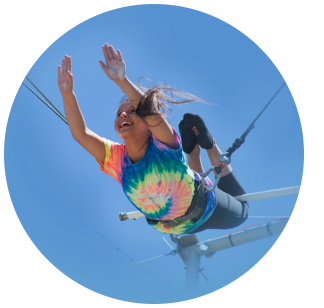 Our expertly-trained staff work with teens from marginalized and LGBTQ+ communities, as well as, students with diverse abilities to teach social development and lessons of perseverance.
Drawing will be held on Facebook LIVE, at our Student Showcase Event: Sat. Nov. 12, 8pm CST. Follow Us on Facebook
Every ticket purchased gives you a chance to win one of the ten items below.
$595 Value

10 person Flying Trapeze Experience
Once-in-a-lifetime and perfect for a celebration
$250 Value

Tito's Gift Box
$219 Value

Sonos Smart Speaker
$199 Value

Bose Audio Sunglasses
$200 Value

Aerial Frame
made by Aerial Essentials
$80 Value

Private circus lesson with pro Jen Von Essen
Free Student Show! Sat, Nov 12
Join us as we proudly present amazing flying trapeze students showing off their skills for your entertainment!
YOU Can Fly, Too!
For a donation of $25, you can experience the thrill of flying twenty-five feet in the air on the flying trapeze. Your donation also provides an opportunity for local youth to participate. Learn More
Over the past two decades, American Youth Circus Organization (AYCO) members have learned about the power of circus arts for teaching social skills and overcoming trauma.